"My creative process or what makes me tick, is still a puzzle, a magic mystery that enthrals me. I am pulled and pushed to express life as it unfolds. What I feel and what I see, the place of spirit in nature life and art. Then trust the intuitive process to tell its story."
I draw and paint directly along the Wild West coast, the challenge to catch these beautiful spaces draws me back time after time. My studio paintings are abstract internalised expressions of life. My clay sculptures often relate to human environments and concerns.
STUDIO
Interested people can contact me and view more of my work.
Elsa Lye (MFA hons) is a multidisciplinary award winning artist who lives in Raglan.
In 2010, completed her MFA at Whitecliffe, Auckland, graduating in multi-screen video shot in Raglan for my final exhibition.
2010 Time un Timed Video Installation. Whitecliffe MFA, Pearce Gallery, Auckland.

2009 Windsocks Video Installation. Whitecliffe MFA, Pearce Gallery, Auckland.
Her work is in private collections and The Waikato Museum of Art and History.
Raglan Horticultural Society Garden Ramble and Art Display, November 2022
15 months ago after our house was completed we started to develop the garden, first contouring the Raglan clay, building the stone walls and fences, adding lots of compost, heart, mind and muscle.
We joined the Raglan Horticultural Society 2022 Garden Ramble to show our garden, and art by myself and Loesje. We were very pleased with the number of keen gardeners who came to view.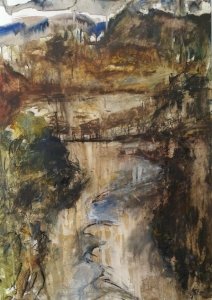 Awards and recognition
2020 Twirl with Me. Creative Endeavour Award: Waikato Society of Potters

2018 Earthbound Building Blocks. Clay. Premium Award: Waikato Society Potters

2015 The Cardinals. Clay and steel. Merit Award: National Contemporary Art Award, Waikato Museum, Hamilton

2011 Drawn to the Edge. Ink and shellac on pieced butter paper. New Zealand Painting and Printmaking National Award

2009 No.1, mono print on aluminium. New Zealand Painting and Printmaking National Award

2007 Origins of the Species. Winner: Fieldays No8 Wire National Sculpture, ArtsPost, Hamilton

2006 For the Birds. Waiclay Ceramic National Award, Waikato Museum of Art and History

2005 There were Signs in the Sky. McCaw Lewis Chapman Painting Award, ArtsPost, Hamilton

2005 The Wind Catcher. No8 Wire National Sculpture Award Te Awamutu Museum – Taupo Museum

2001 Untrod' diptych acrylic and ink, canvas on board. Art Waikato National Paint and Printmaking Award

1998 Dance on a Wire. No8 Wire National Sculpture Award, Waikato Museum of Art and History