SIDE-BY-SIDE is a monthly rotating exhibition at the Raglan iHub, displaying work by two or three of our artists, open daily from 10am to 3pm.
The selection changes on the third Friday of each month.
SHOP OPEN 10am–3pm 7 days
13 Wainui Road, Raglan, Waikato 3225
The current exhibition by Helma van der Pasch and Dyana Wells will finish on August 19.
Regarding Karioi …
September 10–25 2022
Exhibition will run 10am to 3pm each day
with art by
Catherine Houston :: Dyana Wells :: Elsa Lye :: Helma van der Pasch :: Janet Scott :: Julie Macdonald :: Loesje de Bree :: Lois Brooks :: Richard Gemmell :: Wanda Barker
At The Old School Creative Arts Centre
5 Stewart Street, Raglan, Waikato, New Zealand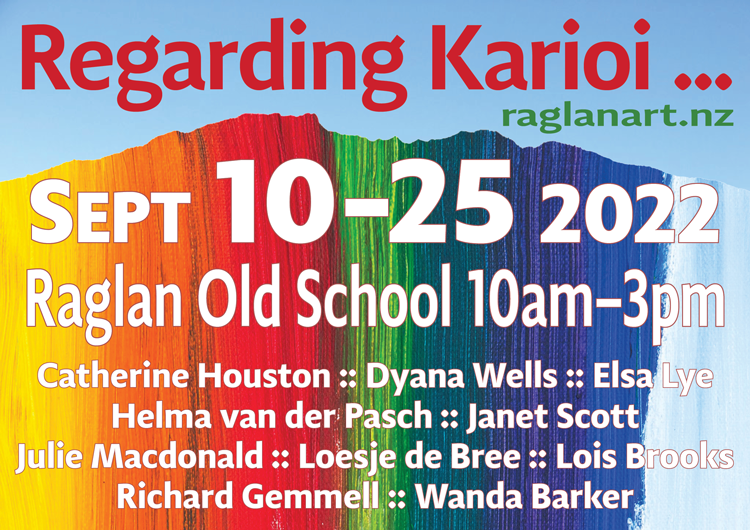 The Raglan Arts Weekend (RAW) is our highly anticipated open studio art event, now in its 12th year.
RAW draws thousands of art aficionados from across the country. They come regularly to check on the latest works of Raglan's varied and highly creative community.
Come along and see many of our artists with open studios and mini-exhibitions.

Labour Weekend | 22–24 October 2022 | 10am–5pm approx.