"My ordinary domestic life is the substance of my art. I am a lifelong experimenter with paint and a variety of media. Exploring certainty and impermanence, life, death, presence and absence. I use clay, building foam, fabric, canvas, paper. I rupture surfaces, stab holes in the canvas, paint over them, create something new. Some of my best work is often seeded in what deteriorates, like old moth-eaten fabric once loved, and in the general decay of things. My work is abstract, messy, nostalgic, sometimes disturbing."
"I mean, if you're going to err, you might as well do so on the side of audacity."
– Sue Monk Kidd / Writer, The Secret Life of Bees and other novels.
STUDIO
Little Hill Studios. Gallery, studio & workshop.
49b Hills Road, Raglan. 
I use acrylics, oils, fabric, watercolours, gouache, crayon and mix all the things. I do sculptural paintings, layering and removing bits. I collage, cover up, reveal.
Studied 'the sacred feminine & domestica' for my MFA Whitecliffe, 2000s. Post MFA I spent about ten years exploring different notions of the sacred feminine in art, history and writing.
I make mainly bold oil and acrylic abstracts. Some figurative elements remain and threads of nostalgia, traces and memories of what's gone, what's worth salvage. I work with a series of paintings. Sometimes 2 or three, or six, exploring an idea in mixed media.
Exhibited and sold widely in NZ over many years. Had a rest for a long while to concentrate on writing. Now I am back in my new studio, painting and collaging and building layers of paint, glitter and adornments. I don't know what the painting is about until it's mostly done, and then it changes again.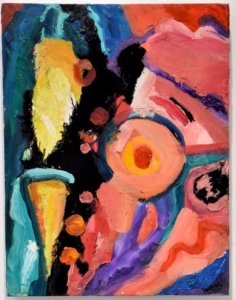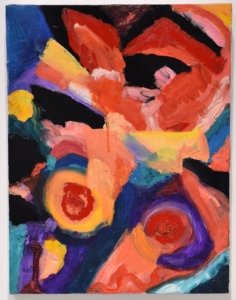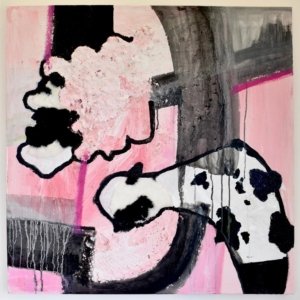 I've had a long career in the art world. Painting, writing, Communtity arts, Arts advisory & facilitation. Influenced by my landscape artist/writer mother I always had a studio practice and sketch books. She encouraged me to exhibit throughout the Waikato, Auckland, Taupo, Wellington in the early days of my art explorations.
Early work
1986 Raglan Arts Group. WSA.
1988 Solo Vinnies Raglan.
1992 Solo Divine Gallery, Wellington.
1992/1994 Solo Vinnies Raglan.
1996 Raglan Artists. Town Hall Raglan. (award)
1998 Solo Vinnies Raglan.
1998. Mother's and daughters. Te Awamutu Arts Society.
This century
2000 Divas Raglan.
2000 Landmarks and angels. Molasses, Raglan.
2002 Divas, Thornton Gallery.
2002 Raglan Artists. Show Off, Raglan.
2005 MFA Whitecliffe.
2005.Randolph Gallery Hand maid, holy maid. Auckland
2006 Hand maid Chartwell Gallery. Arts post, Hamilton.
2006 Empire Gallery. McCaw, Lewis. Finalist.
2006 Porcine Gallery, Whangarei
2006 Alumni Show Whitecliffe. Randolph Gallery Auckland (selected)
2007 She. Old School Arts Centre, Raglan.
2008 Scintilla. Raglan.
2010 Solo Tantrum 1 Old School Arts Centre, Raglan.
2010 Slash & Burn Puriri Studio Manu Bay, Raglan.
A heap of Group shows from 2006 'til now.
-Clay with Susan Flight.
-Ludicrous Ahoy Creative Crew Group shows Raglan.
-Raglan Arts trail.
2008-2012 Arts Advisor Education, Arts Waikato, (now Creative Waikato)
2012-2018 Regional Council Arts Rep, for Raglan Community Arts Council.
2020 Back to studio practice. With experimentation, risk and mutablility at the centre of my art.