Easter 2022
Raglan Whaingaroa
Held at 6 locations
10 artists exhibited at the Community House
uptown Bow St beside the Town Hall / Raglan Radio
and at 5 individual studios & galleries – see below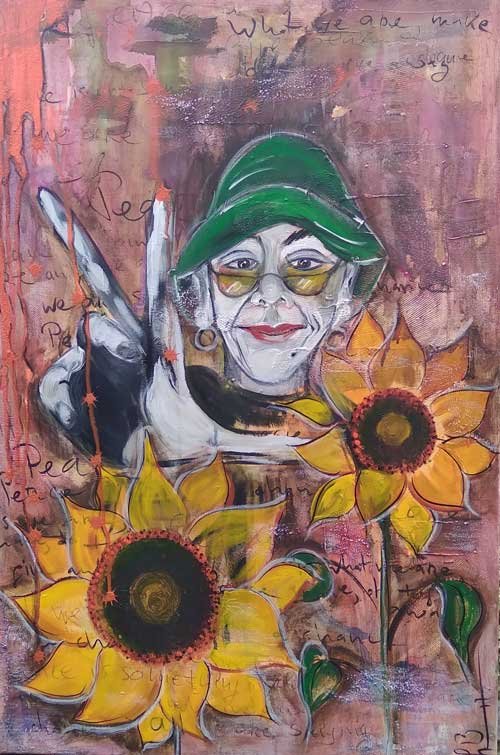 Put these seeds in your pocket (they will grow wherever you will lay your head)!
(the war in Ukraine)
My paintings are inspired by how human beings relate to self and others in our ever-changing environment. They may reveal some of our inner-world or give us an insight into the inner-world of others. Reflection on life creates a meaningful life.
– Loesje de Bree
I Love Bonny-Nudgee Wetlands
While stranded in Brisbane for eight months, Catherine Houston took the opportunity to explore and express the Australian fauna and flora by producing eight paintings. She found using a different colour palette exciting and challenging.
– Catherine Houston
A Meeting of Earth and Water
My art is inspired by the natural world, in particular the intersections of the elements and the patterns of light and movement they create. The moods of the elements reflect as my internal moods, inside out. Recently I have become fascinated  by the texture of the space that holds and transforms into these elements. I have begun to visually explore the Buddhist teaching of form and emptiness. I am inspired by the fragility of form floating in an immensity of space.
My gallery space is at 24 Lily Street, Raglan, open Sat-Sun-Mon over Anzac weekend.
– Dyana Wells 021 036 7717
I am returning to the kitschy, embellished and decorative works I used to love to make, that intersect the craft and fine art worlds. I focus on the ordinary domestic lives of women, capturing beauty from it's dissolution. I try to rehabilitate nostalgic notions of the sacred and ordinary, using paint, collage/femmage, lace, embroidery, old tea towels and kitchen fabrics, beads, glitter. Anything old and past its useful life can be made beautiful again.
Little Hill Studios, 49B Hills Road Raglan, by appointment

– Wanda Barker. Mixed media artist/writer.
Rhythm series
Finding happiness and a new rhythm in these strange times is the motivation for my recent paintings. I also feel this rhythm while forming clay with my hands.
I have a new studio at 46 Bow St Raglan and welcome your enquiry.
Elsa Lye 027 600 6336
Relocated and Opening my Studio for Easter weekend. Mixed Media on Canvas and Panel. Bright colors and thick paint to stir the mind.
Ross Thornton Jones / Open Studio
1 Bay View Road
Open Anzac Monday, 10am – 3pm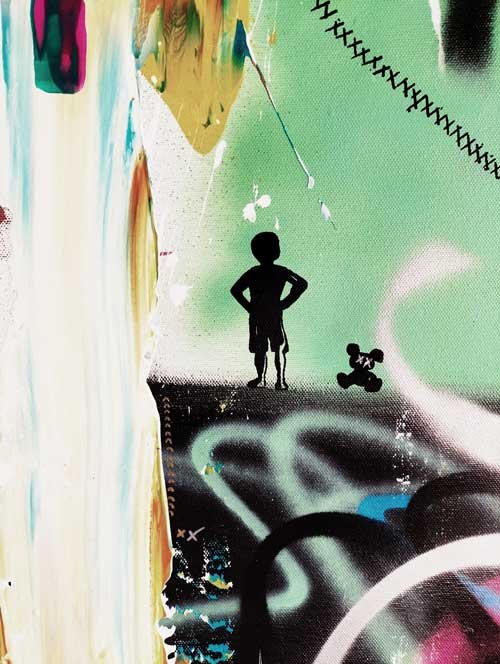 Rock Art 2
I was a sheep farmer in the hills north of Raglan for all of my working life and developed a strong affinity for the land. And  I learnt that a vital part of being a farmer is to be observant … to notice any changes in the condition of the stock and of the land and pasture. And being observant is a big part of being an artist – to notice and then represent colours, shapes and patterns. Covid lockdowns gave us all chance to slow down and really observe the surroundings of where we were. I spent a lot of time walking on the harbour shore. One day I noticed this piece of rock art which I had to photograph.
I see a man. A hunter. With his arms outstretched, one taking aim and the other about to throw a spear. And I see a tattoo of a dog on the man's chest.
Lockdown fuelled my imagination!
– Richard Gemmell
Helma van der Pasch
Ruapuke, April 2022
Moonlight Bay
I utilise the colour blending of fluid acrylics to create flowing skies and seascapes that celebrate the magic light of dusk and dawn. I guide the composition with intuitive action painting to achieve the desired image, finishing details with a palette knife and brushwork.
Subtle metallic colours feature, lending the illusion of sunlight sparkling on sand and water, each painting poured with a lustrous top coat of resin which brings the reflective pigments to life. This adds a depth to the finished work that can only truly be appreciated when viewed in person.
Essentially abstract, the viewer may see my original idea but can also interpret their own mind's unique creation.
– Toni Kingstone
Bush Flight
This piece was put together quite a few years ago and began as an original painting and then transformed in a digital space. It is now available as fine art prints.
Birdlife has been speaking to me and all the patterns within how the birds live their lives. Where they go and what they do there. Their flight paths. I just came back from staying by Matata Lagoon by a village where I once lived. Also, the symbolism of birds being messengers between the heavens and the earth. Lots of different layers about birds and the connection between the natural and spiritual realms which are actually the same thing and only separated by us in an attempt to understand things because sometimes we struggle to take it all in. Nga mihi,
– Miranda Jane Caird
I have been busy working on a promising new series. Finding a new perspective and making new marks.
Studio open by appointment
42 B Upper Wainui Road
– Claudia Grutke
Wildlife photographer, traveller, and nature-lover
– Janet Scott